Unlimited rides
shared shuttle from Japan

Super free plan for

800

early birds:
Monthly passes for public buses & metro,
160K taxi coupons

Unlimited rides
shared shuttle from Japan

Super free plan for

800

early birds:
Monthly passes for public buses & metro,
160K taxi coupons

Unlimited rides
shared shuttle from Japan

Super free plan for

800

early birds:
Monthly passes for public buses & metro,
160K taxi coupons

Unlimited rides
shared shuttle from Japan

Super free plan for

800

early birds:
Monthly passes for public buses & metro,
160K taxi coupons
About the service
mobi is a shared bus service in urban Hanoi. Customers can hail the bus via an app.
The service brings great convenience and benefits to those who live and commute in the service areas.


for mobi bus subscribers
Unlimited rides in all mobi bus' service areas, including Commuter Routes to Hoan Kiem office area & mobi on-the-go within Cau Giay, Kim Ma Ba Dinh area
One-month Hanoi public bus free pass
30-day free pass for MRT (Cat Linh - Ha Dong route)
Mai Linh taxi coupons (160K in total)
Deals for day trip around Hanoi(50 - 70% off)

*Details about the tours are going to be updated later

Adding up to 4 family members to use mobi bus service for free in the same period
This exclusive plan is only available to the first 800 registrants. Mobility tickets will be sent to your door! (*Taxi coupon, public bus/MRT passes are only for main registrant)
WHAT'S NEWS?
By collecting customer feedbacks in the previous trial, mobi will come back with great improvements including:
1

Double service area with ~220 pickup points

2

Implement 3 commuter routes taking passengers to Hoan Kiem District's office area

3

Extend operation hours (7:00 - 22:00)
Easy peasy way to pre-register
(Be one among 800 lucky people)
1Step 1

Fill in the form below. We will contact you via email for the result. (It only take 2 minutes to get this super deal)

Take me to pre-registration form

2Step 2

Download app
*If you already have the app and login account, please skip this step.
* If not, please login under our instruction via email

Download app
Service areas
There are plenty of discounts for mobi bus subcribers in our service areas.
Click the icons on the map below and explore!
Within the area (real-time booking)
Make a booking whenever you need a ride around the area.
mobi will be there within 10-15 minutes (on average) to pick you up to your destination!
mobi in Cau Giay, Kim Ma Ba Dinh area
Easily pick any waypoint in the area
There's also waypoints near MRT Cat Linh & BRT Nui Truc.
mobi Pre-booking routes
This is a great service for those who work or study pretty far from home.
Customers can pre book a ride among a list of available trips on each specific route. Please book at least 30 minutes prior to the departure time. *You can confirm the details operation of mobi routes via our app
Commuter Routes to Hoan Kiem district's office area
Route M1: Hồ Tùng Mậu Hoàn Kiếm
Hồ Tùng Mậu (Goldmark city) , Xuân Thủy, Trần Đăng Ninh, Nguyễn Phong Sắc, Hoàng Quốc Việt, Hoàng Hoa Thám, Trần Quang Khải, Phan Chu Trinh, Lý Thường Kiệt
Route M2: Hàm Nghi Hoàn Kiếm
Hàm Nghi (Vinhomes Gardenia), Nguyễn Hoàng, Tôn Thất Thuyết, Trần Thái Tông, Cầu Giấy, Nguyễn Văn Huyên, Nguyễn Khánh Toàn, Đào Tấn, Trần Huy Liệu, Giảng Võ, Cát Linh, Lý Thường Kiệt, Phan Chu Trinh, Trần Quang Khải
Route M3: Phạm Hùng Hoàn Kiếm
Phạm Hùng (Vinhomes Skylake), Dương Đình Nghệ, Trung Kính, Yên Hòa, Nguyễn Chí Thanh, Kim Mã, Núi Trúc, Cát Linh, Lý Thường Kiệt, Phan Chu Trinh, Trần Quang Khải
Notice: AEON MALL Ha Dong route is no longer in our service area this time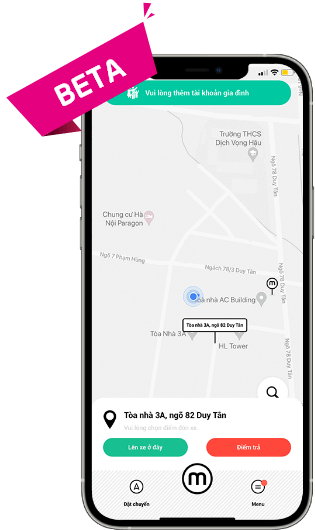 During free trial, all routes are available to ride for FREE ! Try now and have your everyday travel experience transformed !
*The unlimited rides service will be available at a fixed monthly subscription price after the free trial ends.
AI routing determines the best route for you
mobi is an on-demand shared shuttle with AI routing. When you book, AI routing considers the traffic conditions and booking requests within the area and suggests the best route for your destination.
Book a ride with mobi app and enjoy travel around town now!
Features
A better life with a better mobility experience
Look impeccable

Head out looking stylish and at your best every day. No more worries on rain, dust or pollution.

Relaxed and comfortable

Enjoy a comfortable travel journey with the luxury vehicle and drivers' safe driving practices

Safe and secure

Professional, familiar drivers specially designated for the area. They follow Japan standards and service quality.
Safe and secure for everyone, from young to elderly

Hassle free when shopping

Get on from any mobi stop near home and save up the hassle for heavy items or rainy days when shopping
mobi free trial is supported by
Smart JAMP (Smart City supported by Japan ASEAN Mutual Partnership)

The free trial for area on-demand shared bus is a demonstration project conducted under Smart JAMP, a support measure by the Japan government for the realization of smart cities in countries outside of Japan. This trial aims to investigate the feasibility of a new, advanced mobility service in Cau Giay, Ba Dinh and Kim Ma areas.

Entrusted time of the examination: Until February 28th, 2022

Asia Digital Transformation Projects by JETRO(JAPAN EXTERNAL TRADE ORGANIZATION)

The free trial for pre-booking route on-demand bus is a demonstration project by the Japan government via WILLER under the "Asia Digital Transformation Projects". The purpose is to investigate the beneficiary effects and behavioural changes from the reduced motorcycle usage with the introduction of a new form of mobility which ferries a large amount of passengers (like everyday commute or shopping mall shuttle) as well as the positive effects on social challenges like congestion, traffic accidents and air pollutions.

Demonstration period: From September 21st, 2021 ~ current